According to the Hindu mythology, it is believed that Goddess Parvati renounced food and water, and solicited for years to move Lord Shiva and made him her husband. Ever since, for ages, this ritual has been celebrated as Teej. This festival has been a light of hope for all believers and persuaded them to observe a fast and offer prayers to Goddess Parvati in a hope to find their better half, and after marriage, for their well being.
Teej is widely celebrated across the Indian states of Rajasthan, Jharkhand, Bihar, Uttar Pradesh, Madhya Pradesh, Chattisgarh, and Maharashtra. It is observed on the third day of Shukla Paksha (fortnight) in the Hindu month of Bhadrapad (Malayalam month – Chingam) This year Hariyali Teej will be celebrated on 13th August 2018.
Well just like any festival, food has its own remarkable importance in the process. There are a variety of dishes which women cook to observe Teej. We hand-picked some of the most sort after delicacies which you should never miss on Teej.
1. Malpua
Let's begin with the famous Malpua, which popularly used in the lyrics of many Bollywood songs. Malpua is essentially the Indian fried pancake, usually flavored with fennel and cardamom, and dunked in a yummy syrup that would make you drool. It is popular in Odisha, West Bengal and Maharashtra where it is served during festivals along with other sweets. Malpua in northern India, particularly in Uttar Pradesh, Bihar, and Rajasthan, don't contain fruit. There are a lot of interesting variations that can be made. Here is a very simple and sweet Malpua recipe by WHISK AFFAIR that you could try at home.
2. Ghevar
Ghevar is a typical Rajasthani sweet which can be made in sizes varying from that of a idli to a large pizza. It uses basic ingredients like flour, ghee, and milk. The real magic lay in its method of preparation. Ghevar is very special to the celebration of Teej, as its a must-make. Check out the recipe for Ghevar by COOK WITH MANALI.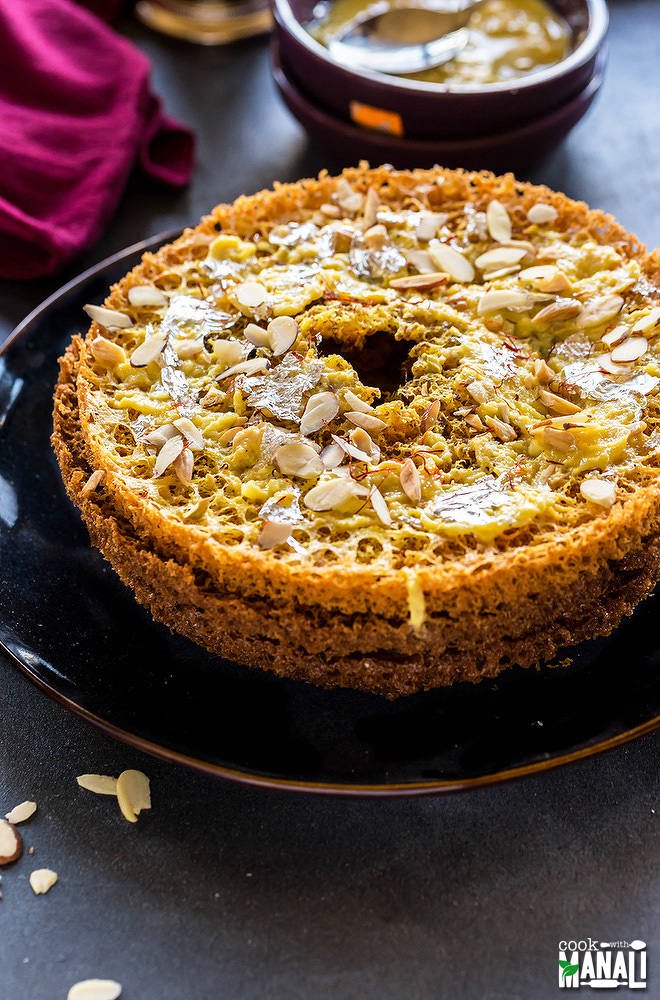 3. Khasta Kachori
Kachoris are the Indian version of stuffed puff pastry, which can hold a variety of fillings and is deep fried. It is believed to have originated in the states of Rajasthan and Uttar Pradesh. The Onion Kachori is a very famous delicacy of the Rajasthani Cuisine and gained popularity among people from all walks of life, even before samosas. Kachoris are a crowd favorite and served as the appetizer or an evening snack on any occasion, and so on Teej. We picked a very simple recipe by SPICE UP THE CURRY for you to try and get a taste of this beautiful and delicious dish.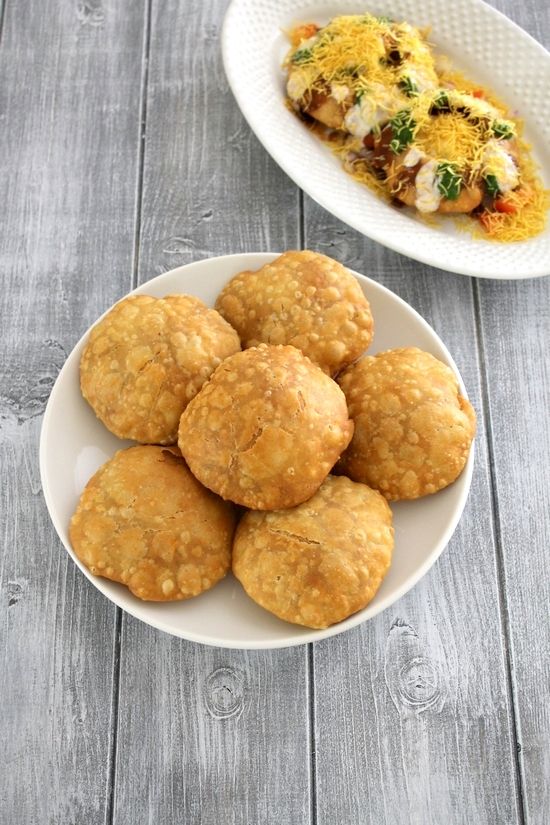 4. Dal Baati Churma
It was in the desert kingdom of Mewar that this mouth-watering combination of sweet, spicy and bland bread originated. The Dal Baati Churma is a combo dish. Here 'Dal' is a mixture of cooked lentils. 'Baatis' are small dough balls prepared with wheat flour, ghee, and milk. And 'Churma' is a sweetened and cardamom-flavored mix of crushed baati. This combination is a result of accidental experiments and discoveries which happened across various kitchens over a period of time. The dish became popular throughout Rajasthan, each local dynasty added its own twist to the combination. Here is our pick of this traditional dish by MY GINGER GARLIC KITCHEN.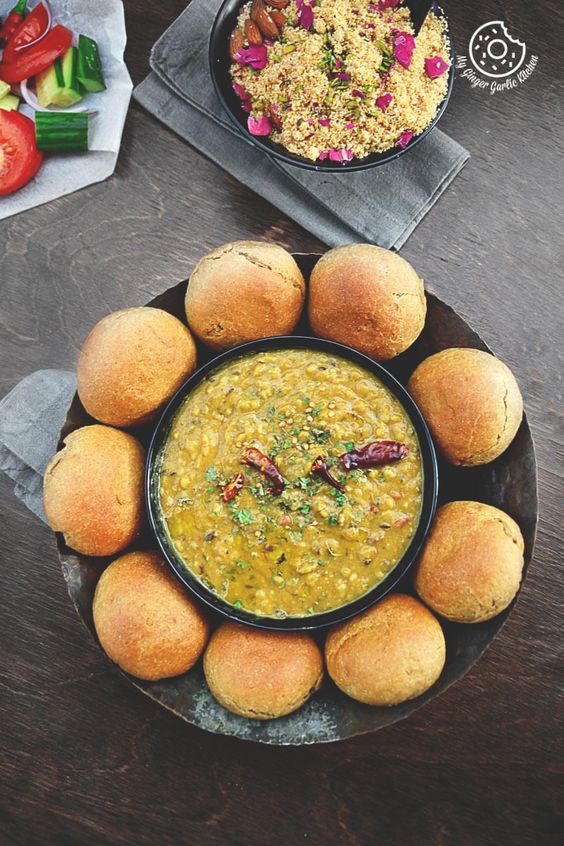 5. Gatte Ki Sabzi
Gatte means cooked gram flour dumplings, which are added to the spicy curd gravy. This again is an authentic Rajasthani cuisine food. The curry has a punchy taste to it tastes best when served with baked bread like Chappati or Roti. It isn't a really touch dish to nail but sure needs some attention to the details. Check out the recipe by COOK WITH MANALI.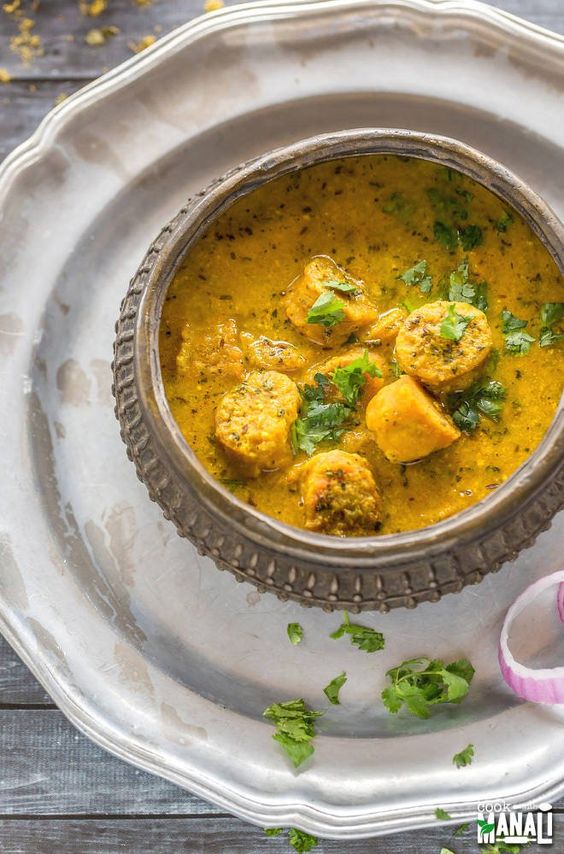 Hope you find our picks interesting. Write to us about your personal favorite.
Did we miss anything?
Share with us your idea Teej and your kitchen-twist. We wish you all a happy and prosperous Teej.