Onam is one of the most celebrated festivals in Kerala. The scrumptious sadhya served on Onam is the top highlight of the festival. It is totally a well-balanced vegetarian affair that is very rich in nutrients. Sadhya consist of rich 20 or more dishes is an ideal meal that detoxifies your body. This popular meal is served on a plantain leaf, which is to be consumed sitting on the floor. Onam sadhya is getting worldwide attention for its health benefits. Amidst all the indoor celebrations, let's not forget that we need good immunity to stay free from novel coronavirus. In this blog, we've selected 5 recipes from sadhya that are super healthy and helps us n boosting immunity.
1.Rasam
This watery dish with tomatoes and tamarind as core ingredients can be usually accompanied by any dishes. For more flavors, other herbs and spices like pepper, garlic, cumin, and coriander leaves are also added to make it the king soup! All the ingredients in the rasam ensure that they remove all toxins and improves metabolism. Rich in magnesium, copper, and iron rasam aids digestion and eases bowel movement.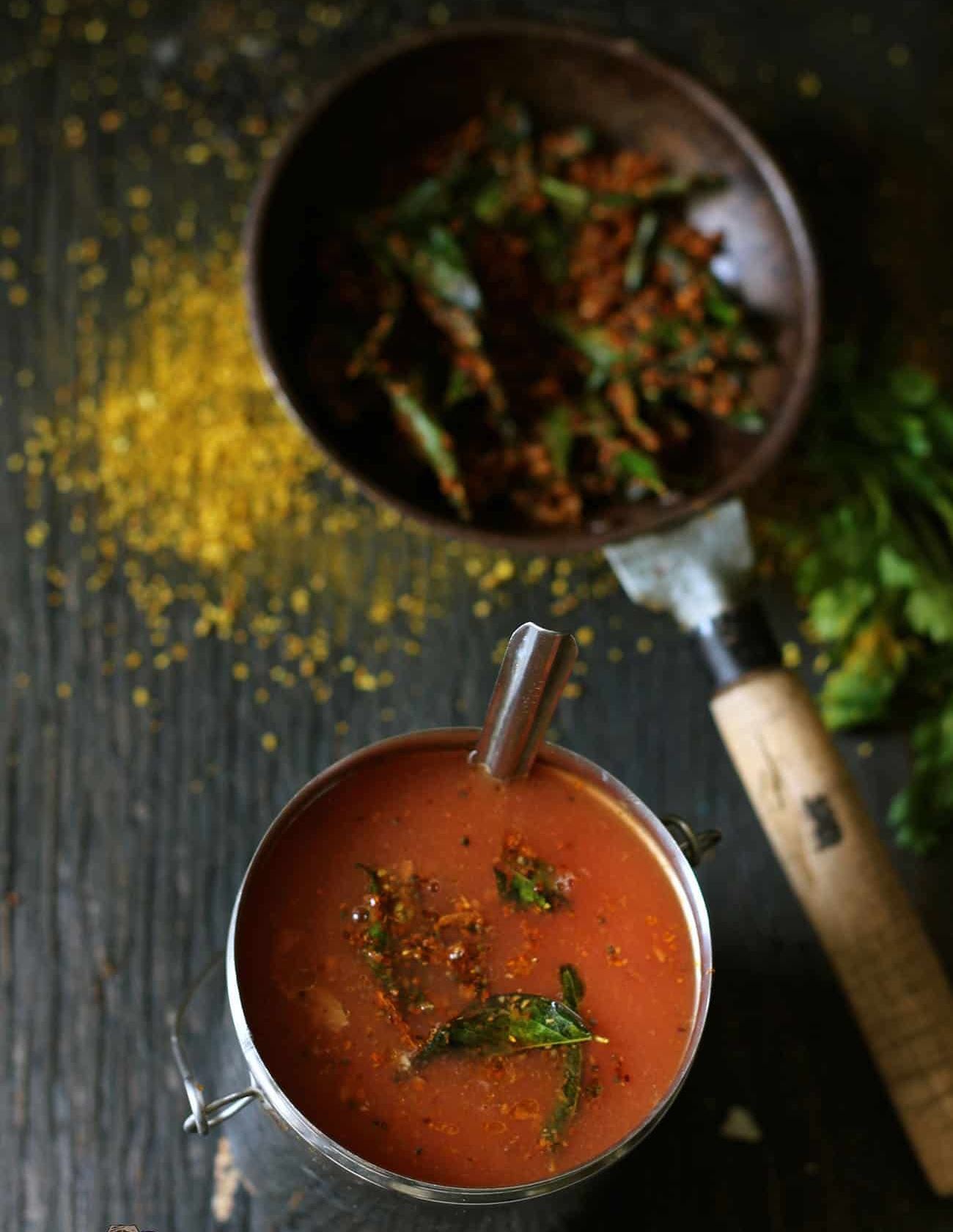 Here is a quick recipe of Rasam
Ingredients
Tomato-3 Nos
Water-1/2 liter
Salt to taste
Tamarind-one lemon size
Eastern Rasam Powder-1 ½ tbsp
Mustard, Fenugreek seeds-For seasoning
Curry leaves-1 stalk
Garlic crushed 2-3 cloves
Preparation
Add salt to water and cook the tomatoes till tender.
Add 'Eastern' Rasam powder and tamarind water, Boil well.
Season with curry leaves, mustard, fenugreek and crushed garlic.
Serve hot.
2.Sambar
One of the most favorite south Indian curries for many is Sambar. This lentil-based curry is loaded with almost all the vegetables and spices making it healthier than the rest. Sambar is rich in proteins and fiber. Sambar is very popular for smooth digestion as it has the presence of water and fiber. Protein-packed pulses, detox friendly spices and varieties of vegetables make it altogether a super yummy and healthy dish.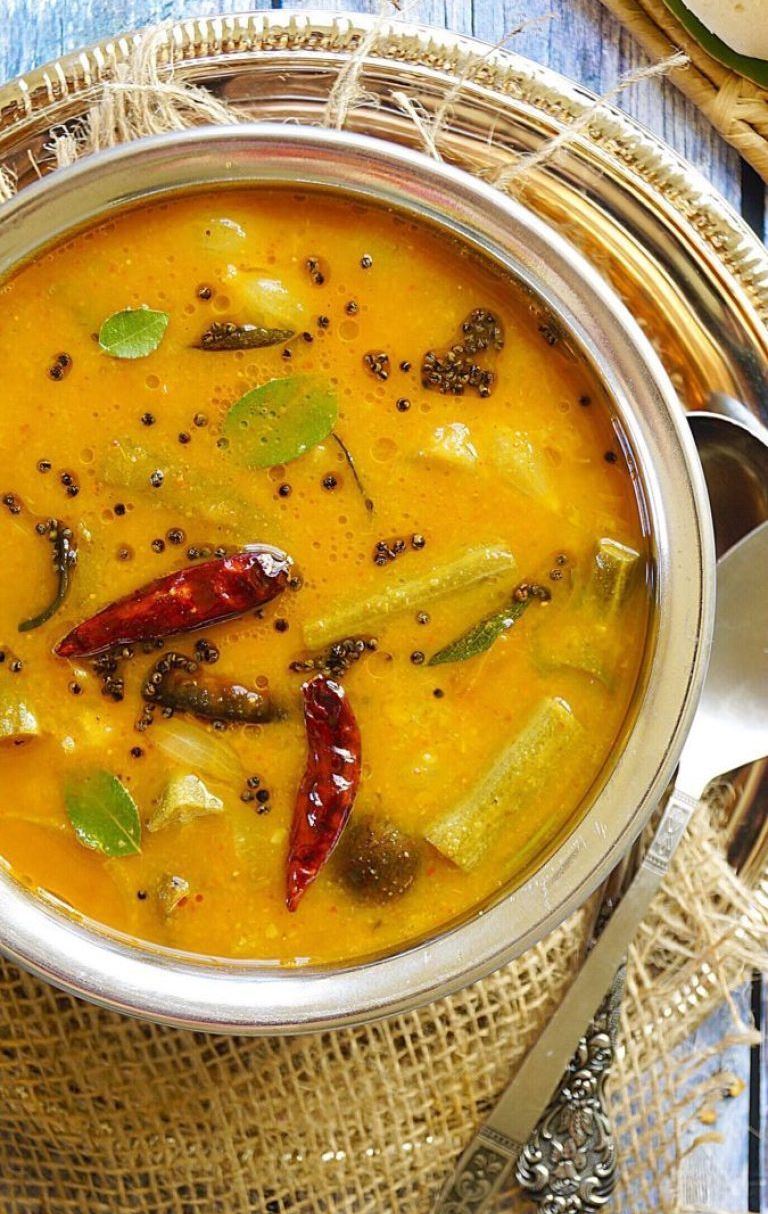 Here is a recipe of Sambar
To Pressure Cook
Toor dal – 1/2 cup
Turmeric powder – 1/4 tsp
Cooking oil – 1/4 tsp
Water – 2 cups
Small onions/Big onion – 12 nos/1 no
Green chilli – 1 no(slit)
**Mixed vegetables – 1 cup (Refer method)
Ripe tomato – 1 no (chop finely)
To Boil With Dal
Tamarind – Big gooseberry size
Eastern Sambar powder – 1 tbsp
Curry leaves – few
To Temper
Coconut oil – 1 tbsp
Mustard seeds – 1/2 tsp
Red chilli – 1 no(pinched into two)
Curry leaves – few
Eastern Sambar powder – 1 tbsp
Preparation Method
Wash and chop all the veggies into small cubes.Keep in a small box.
In a cooker base, take dal,small onion and chilli. Keep the veggies box inside cooker.
Pressure cook in low flame for 2 whistles. Remove the veggies bowl. Mash the dal.
Add tamarind extract, cooked vegetables, sambar powder, salt.
Boil for 5 minutes till nice smell arises.
Temper mustard, curry leaves, red chilli and Eastern Sambar powder in low flame.
Add to sambar, boil for a minute. Garnish with coriander leaves.
3.Avial
Avial is the most essential dish in sadhya. Made with a mix of vegetables, curd, coconut paste, only less spice is added to avial making it a super healthy dish. The final step of adding curd and coconut oil is the secret behind the taste of avial. Vegetables, coconut paste with mild spices, curd and coconut oil altogether makes it rich in vitamins and minerals.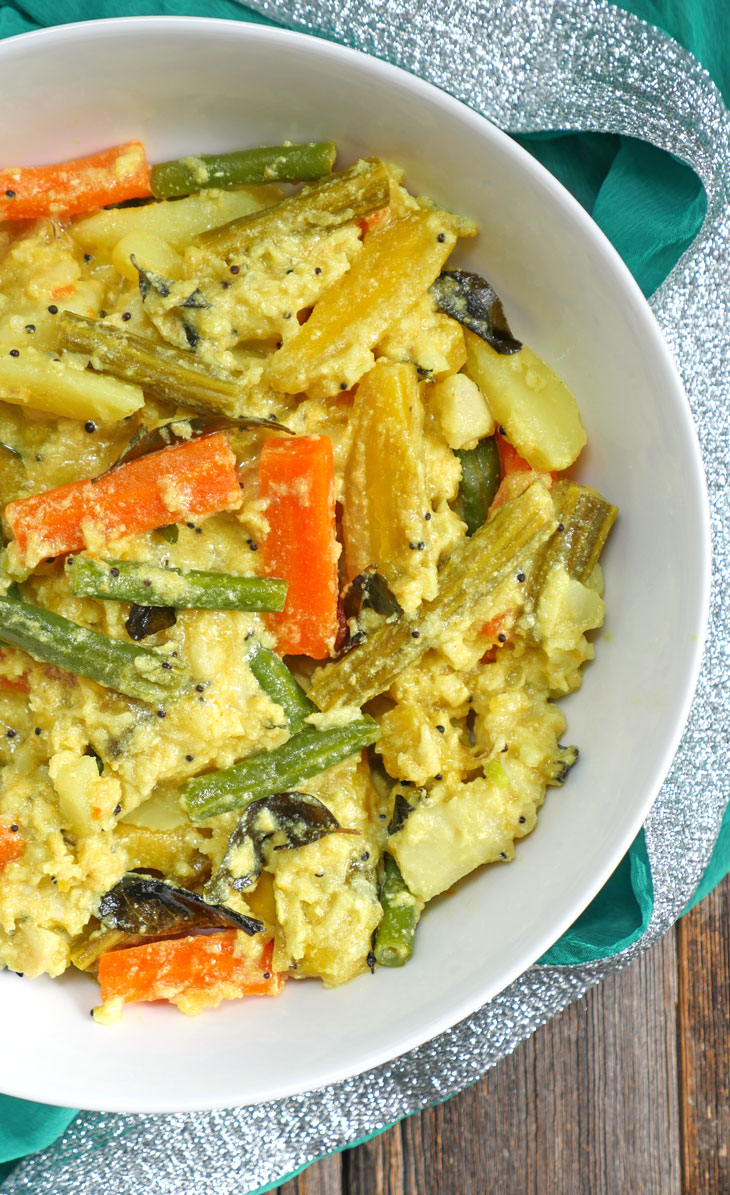 FOR COCONUT MASALA PASTE:
1 cup coconut
1 tsp cumin/ jeera
4 green chili
water as required, to blend smooth
VEGETABLES AS REQUIRED
OTHER INGREDIENTS:
½ tsp turmeric powder
1 tsp coconut oil
½ cup curd
FOR TEMPERING:
2 tsp coconut oil
1 tsp mustard seeds
½ tsp urad dal
2 dried red chilis
few curry leaves
pinch asafoetida
INSTRUCTIONS
Blend coconut, jeera and green chili.
Add water and blend to smooth paste.
Cook potatoes with salt and water.
Add mixed vegetables of your choice.
add curry leaves, turmeric and mix well.
cover and cook the veggies for 7 minutes or till they are cooked well.
add coconut pastand boil for 5 minutes.
Add half cup of sour curd.
Prepare tempering by heating oil.
Add mustard seeds, urad dal, dried red chilis, curry leaves and asafoetida. allow to splutter.
Add the tempering onto the avial and mix well.
Don't miss this super healthy recipes for Onam Sadhya. Try them and do let us know your feedbacks in the comment section!