Christmas is around the corner and it's time to bake some fresh cookies at home! Here is a curated list of cookie recipes that are simple and tasty with a Christmassy vibe.
Gingerbread cookies
No Christmas is complete without Gingerbreads. It is part of western tradition and can take many forms like gingerbread houses, gingerbread man and gingersnaps. Considered a sacred dish in the olden times, it was allowed to cook only at the time of Christmas and Easter. Ginger is not only a seasoning agent but it helps to preserve bread for longer times.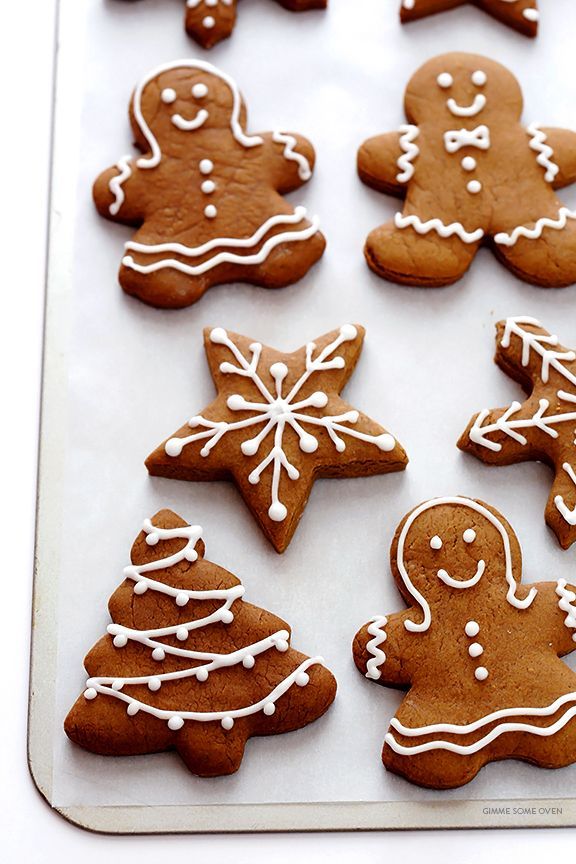 Ingredients
1 cup butter (2 sticks), at room temperature (salted or unsalted)
1 cup granulated white sugar
1 egg
1 cup light or dark molasses (do not use blackstrap or cooking molasses)
2 tablespoons white vinegar
5 cups all-purpose flour
1 ½ teaspoons baking soda
½ teaspoon salt
2 teaspoons ground ginger
1 teaspoon ground cinnamon
1 teaspoon ground cloves
Method of preparations
Add the butter and sugar to a large bowl (or the bowl of your stand mixer) and beat until the mixture is light and fluffy, about three minutes, using a hand mixer or the paddle attachment on your stand mixer. Scrape down the sides as few times as needed.
Add the egg, molasses, and vinegar. Beat to combine well. The mixture will look a bit curdled.
Add the flour, baking soda, salt, ginger, cinnamon, and cloves to the bowl and mix to combine well. The dough should come together when you press it in your hands and shouldn't be crumbly. If anything it'll still be a little tacky to the touch. That's ok.
Divide the dough into two even pieces, wrap each piece of dough in plastic wrap, and refrigerate for 30 to 90 minutes. Don't skip this step, it helps the cookies to keep their shape.
When the dough is done chilling, preheat the oven to 350 degrees. Working in sections, roll the dough to 1/2 inch thick on a floured surface; cut into desired shapes.
Place shapes on a baking sheet lined with parchment paper or a baking mat. Gather and reroll "scraps" of dough as needed, using all of the dough.
Bake at 350 degrees for 9-11 minutes. Let the cookies cool on the pan for 5 minutes, and then move to a cooling rack.
Repeat with the remaining dough.
Leave plain or decorate
Jam Thumbprints
No matter how old we are, Ham Thumbprints are still a top favorite to many of us. Famous as the most classic Christmas cookies, the buttery cookies with jam, mostly apricot or raspberry in the center are a deadly combination. Try this recipe and do let us know how it tasted.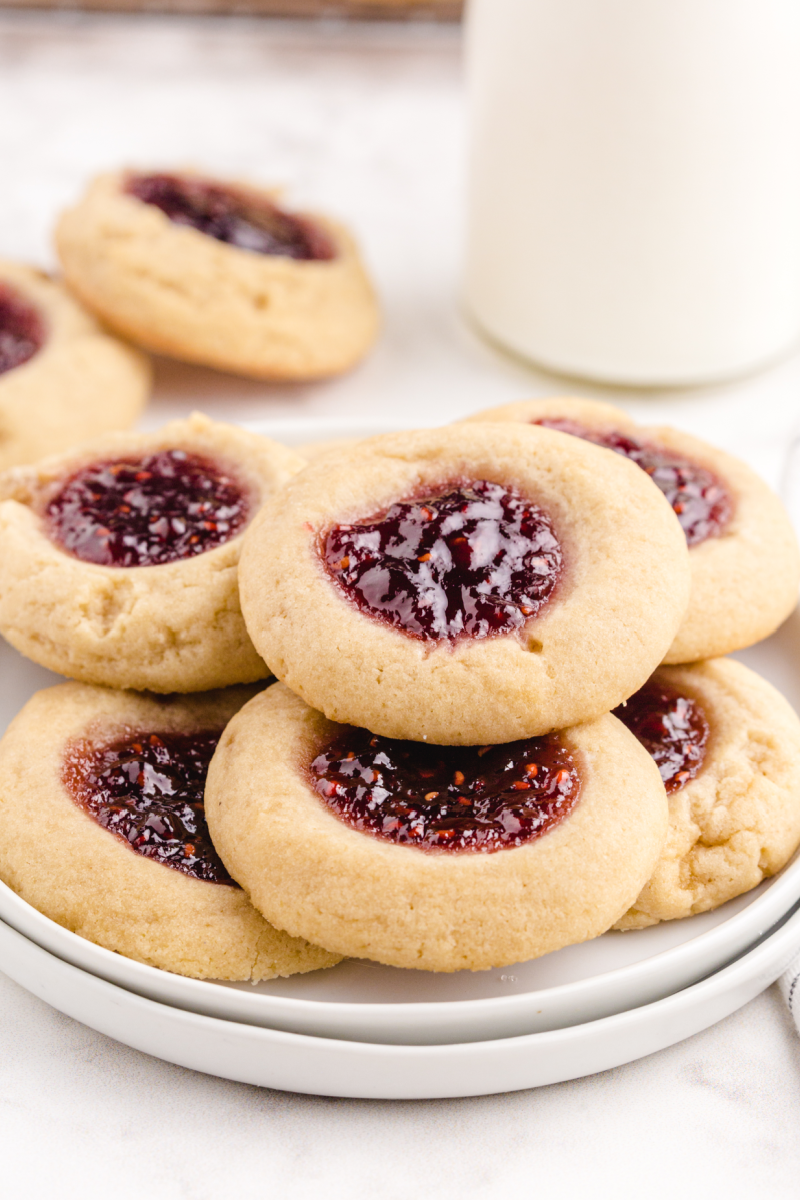 Ingredients
1 cup unsalted butter softened to room temperature (226g)
1/3 cup sugar (70g)
1/3 cup light brown sugar, tightly packed (70g)
1 large egg yolk
3/4 teaspoon vanilla extract
2 1/4 cup all purpose flour (280g)
2 teaspooons cornstarch
1/2 teaspoon salt
1/2 cup sugar for rolling (optional)
1/3 cup jam or preserves flavor of your choice
Method of Preparations
Place butter in the bowl and beat until creamy.
Scrape down the sides of the bowl, add sugars, and beat, gradually increasing mixer speed to medium-high until ingredients are well-combined (about 30-60 seconds).
Add egg yolk and vanilla extract and beat well.
In a separate bowl, whisk together flour, cornstarch, and salt.
With mixer on low speed, gradually add flour mixture to wet ingredients until completely combined.  This dough will seem very dry and crumbly, so be sure to pause occasionally to scrape the sides and bottom of the bowl.  If it starts to strain your mixer you can use your hands to finish working the dough together.
Scoop cookie dough into 1 Tablespoon-sized balls and roll very well (so that the dough is round and there are no cracks/seams in the cookie dough — this will help keep your thumbprints from cracking).
Roll in granulated sugar (if using) and place on a wax-paper covered plate or small cookie sheet.  Use your thumb or the rounded back of a teaspoon to gently press an indent in the center of the cookie dough.  Repeat until all of the dough has been used.
Transfer cookie dough to freezer and chill for 30 minutes.
Once dough is done chilling, preheat oven to 375F (190C) and place your jam in a small microwave-safe bowl.  Heat briefly (about 5-10 seconds) or until jam is not hot but is no longer firm and is easy to stir.
Spoon jam into each thumbprint, filling each indent to the brim.
Once oven is preheated, place cookies at least 2″ apart on a parchment paper-lined cookie sheet and bake on 375F (190C) for 11 minutes or until edges are just beginning to turn golden brown.
Allow cookies to cool completely on baking sheet before enjoying.
Almond Biscotti
With just a minimum number of ingredients, Almond Biscotti are not only easy to make, they tastes yumm! Perfect for Christmas, you can bake them in 20 minutes.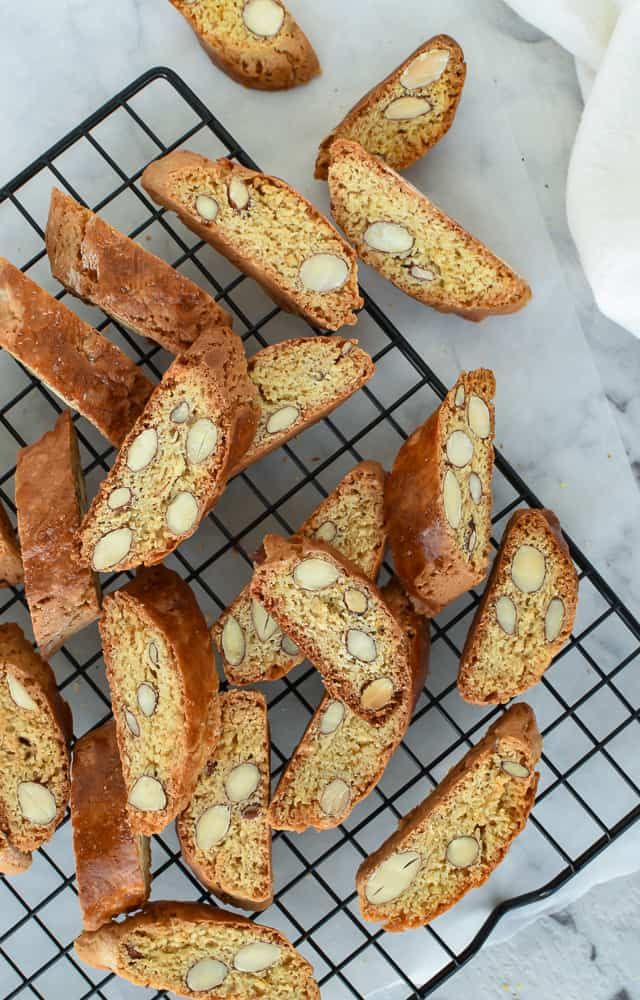 Ingredients
1/2 cup butter, softened
1-1/4 cups sugar, divided
3 large eggs, room temperature
1 teaspoon anise extract
2 cups all-purpose flour
2 teaspoons baking powder
Dash salt
1/2 cup chopped almonds
2 teaspoons milk
Method of Preparations
In a large bowl, cream butter and 1 cup sugar until light and fluffy, 5-7 minutes. Add eggs, 1 at a time, beating well after each addition. Beat in extract. Combine dry ingredients; gradually add to creamed mixture and mix well. Stir in almonds.
Line a baking sheet with foil and grease the foil. Divide dough in half; on the foil, shape each portion into a 12×3-in. rectangle. Brush with milk; sprinkle with remaining sugar.
Bake at 375° until golden brown and firm to the touch, 15-20 minutes. Lift foil with rectangles onto a wire rack; cool for 15 minutes. Reduce heat to 300°.
Transfer rectangles to a cutting board; cut diagonally with a serrated knife into 1/2-in. slices. Place cut side down on ungreased baking sheets.
Bake for 10 minutes. Turn and bake until firm, 10 minutes longer. Remove to wire racks to cool. Store in an airtight container.
Pinwheel Cookies
Pinwheel cookies grab the attention of all out of all the Christmas spreads. In fact, these cookies resonate with the theme of Christmas in a mesmerizing way.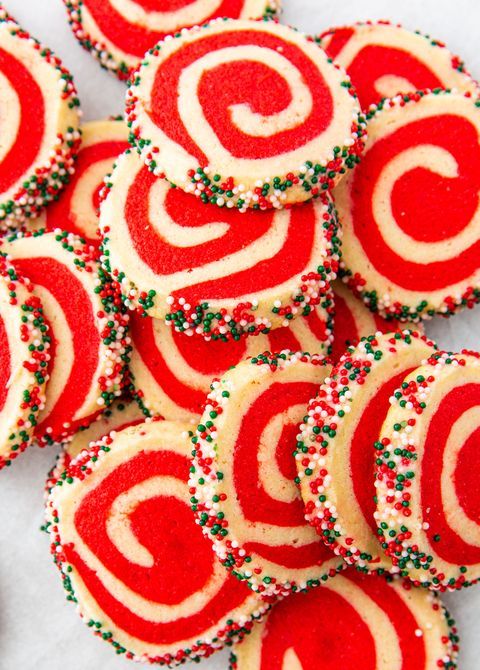 Ingredients
2 1/4 c. all-purpose flour
1 tsp. baking powder
1/2 tsp. kosher salt
1 c. (2 sticks) butter, softened
1 c. granulated sugar
1 large egg
3/4 tsp. almond extract
Red food coloring
Method of Preparation
In a medium bowl, whisk together flour, baking powder, and salt. In a large bowl using a hand mixer (or in the bowl of a stand mixer, fitted with a paddle attachment), beat butter and sugar together. Add egg and beat until incorporated, then add extract. Add dry ingredients and beat until just combined.
Divide dough in half, keeping one half in mixing bowl. Add red food coloring and mix until desired color is reached. Shape each dough into a square that is roughly ½" thick. Wrap in plastic wrap and refrigerate until firm, about 30 minutes.
Place red dough between two sheets of parchment paper and roll into a rectangle that's about 1/4″ thick. Repeat with white dough. Take top sheet of parchment paper off of each dough. Place red dough on top of white dough, dough sides facing each other. Gently press on top of dough to help seal together.
Remove top parchment paper and trim sides to match up evenly. Starting on a long side, use the bottom parchment paper to help roll dough tightly in to a log. Roll log on the counter a few times to help seal the edge. Wrap in plastic wrap and refrigerate until firm, at least 1 hour and up to overnight.
Preheat oven to 350°. Line 2 large baking sheets with parchment paper. Place sprinkles on a medium plate. Using a sharp knife, slice cookies 1/2" thick and roll edges in sprinkles. Place on baking sheets 2" apart.
Bake until edges are set and just starting to turn golden, 10 minutes.
Chocolate chip cookies
Chocolate chip cookies are favorite to many of us. But this time let's try a recipe that is quite different from typical chocolate chip cookies.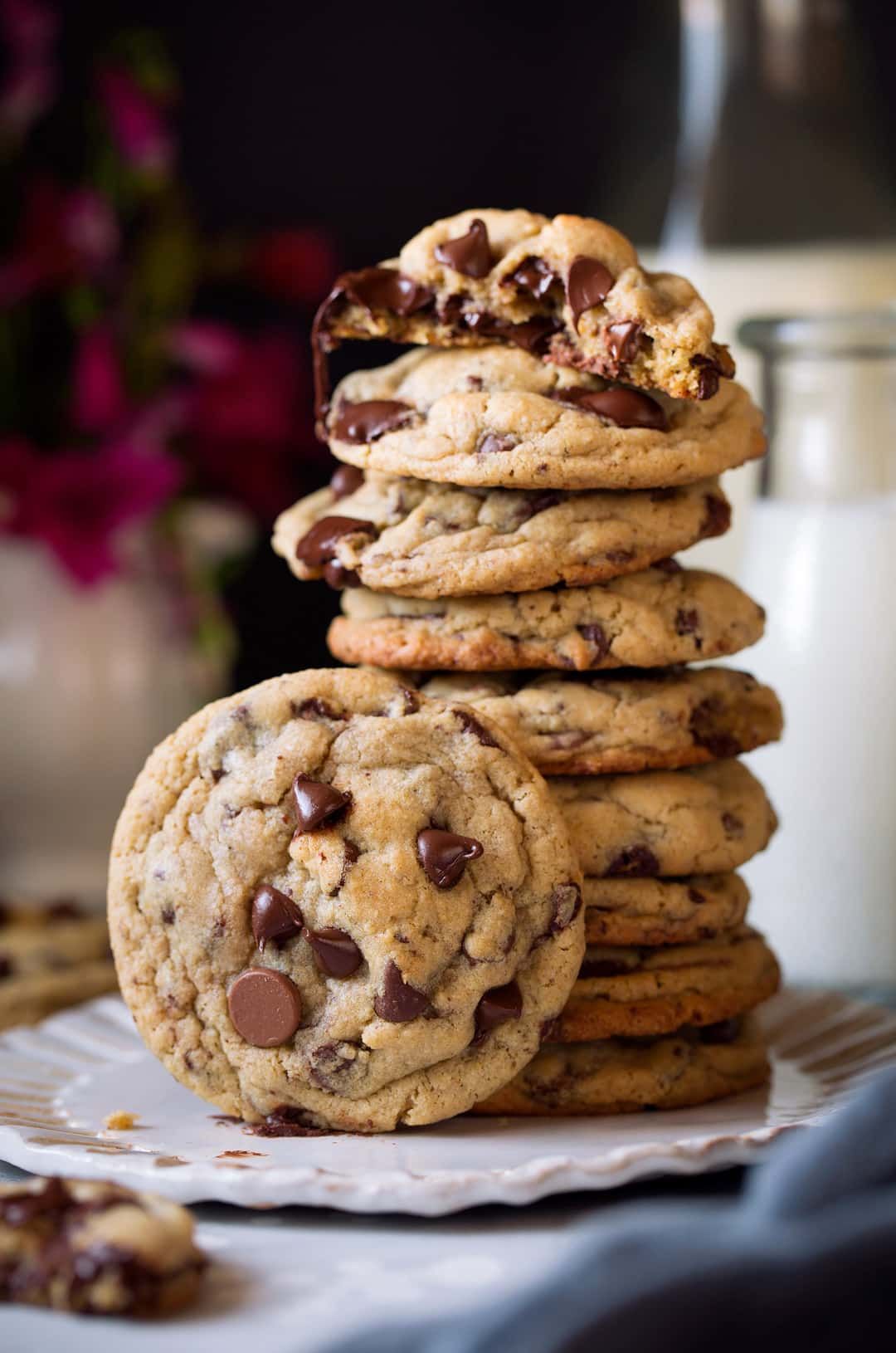 Ingredients
1 cup salted butter* softened
1 cup white (granulated) sugar
1 cup light brown sugar packed
2 tsp pure vanilla extract
2 large eggs
3 cups all-purpose flour
1 tsp baking soda
½ tsp baking powder
1 tsp sea salt***
2 cups chocolate chips (or chunks, or chopped chocolate)
Method of preparations
Preheat oven to 375 degrees F. Line a baking pan with parchment paper and set aside.
In a separate bowl mix flour, baking soda, salt, baking powder. Set aside.
Cream together butter and sugars until combined.
Beat in eggs and vanilla until fluffy.
Mix in the dry ingredients until combined.
Add 12 oz package of chocolate chips and mix well.
Roll 2-3 TBS (depending on how large you like your cookies) of dough at a time into balls and place them evenly spaced on your prepared cookie sheets. (alternately, use a small cookie scoop to make your cookies).
Bake in preheated oven for approximately 8-10 minutes. Take them out when they are just BARELY starting to turn brown.
Let them sit on the baking pan for 2 minutes before removing them to the cooling rack.
French Macarons
French macarons are worth a drool every time. They can be customized to different ways to make it more attractive and Christmassy.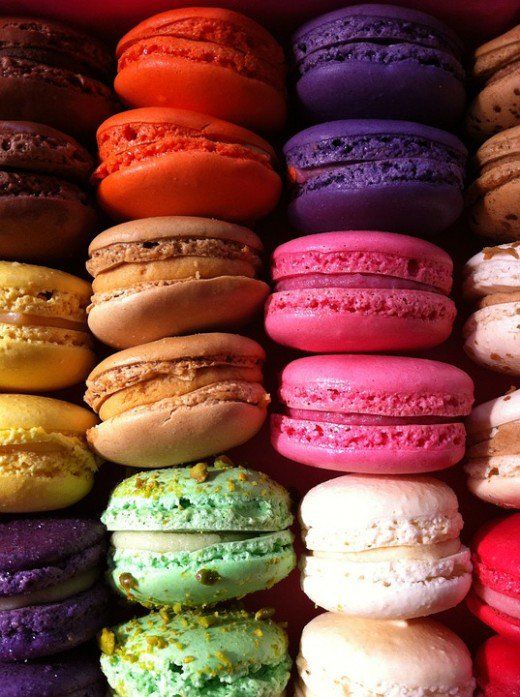 MACARONS
1 ¾ cups powdered sugar (210 g)
1 cup almond flour (95 g), finely ground
1 teaspoon salt, divided
3 egg whites, at room temperature
¼ cup granulated sugar (50 g)
½ teaspoon vanilla extract
2 drops pink gel food coloring
VANILLA BUTTERCREAM
1 cup unsalted butter (230 g), 2 sticks, at room temperature
3 cups powdered sugar (360 g)
1 teaspoon vanilla extract
3 tablespoons heavy cream
Method of Preparation
Make the macarons: In the bowl of a food processor, combine the powdered sugar, almond flour, and ½ teaspoon of salt, and process on low speed, until extra fine. Sift the almond flour mixture through a fine-mesh sieve into a large bowl.
In a separate large bowl, beat the egg whites and the remaining ½ teaspoon of salt with an electric hand mixer until soft peaks form. Gradually add the granulated sugar until fully incorporated. Continue to beat until stiff peaks form (you should be able to turn the bowl upside down without anything falling out).
Add the vanilla and beat until incorporated. Add the food coloring and beat until just combined.
Add about ⅓ of the sifted almond flour mixture at a time to the beaten egg whites and use a spatula to gently fold until combined. After the last addition of almond flour, continue to fold slowly until the batter falls into ribbons and you can make a figure 8 while holding the spatula up.
Transfer the macaron batter into a piping bag fitted with a round tip.
Place 4 dots of the batter in each corner of a rimmed baking sheet, and place a piece of parchment paper over it, using the batter to help adhere the parchment to the baking sheet.
Pipe the macarons onto the parchment paper in 1½-inch (3-cm) circles, spacing at least 1-inch (2-cm) apart.
Tap the baking sheet on a flat surface 5 times to release any air bubbles.
Let the macarons sit at room temperature for 30 minutes to 1 hour, until dry to the touch.
Preheat the oven to 300˚F (150˚C).
Bake the macarons for 17 minutes, until the feet are well-risen and the macarons don't stick to the parchment paper.
Transfer the macarons to a wire rack to cool completely before filling.