Recipes for Navrathri should hold the ability to brighten up anyone's fasting. Here we present you the easiest and delicious recipes of 5 sweets to make 2020 Navrathri a memorable one.
1.Palkova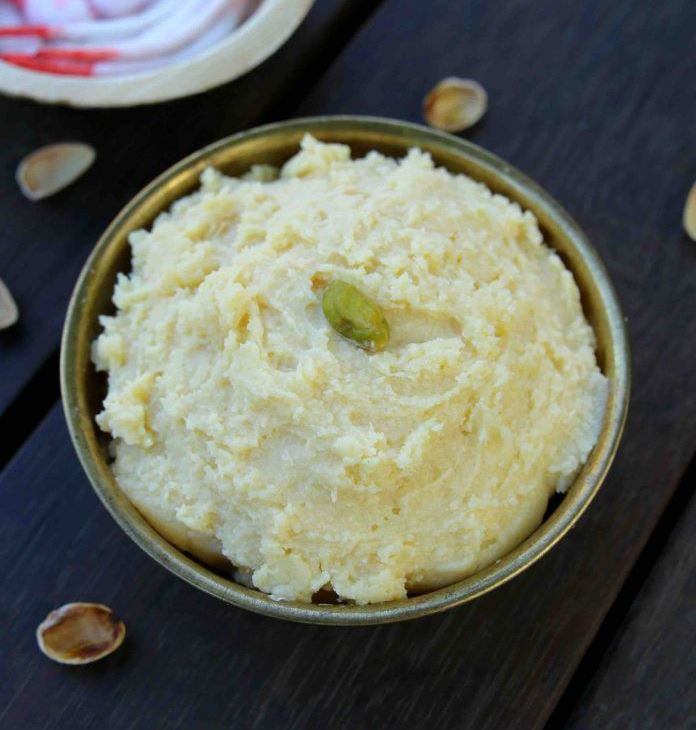 Ingredients
Milk – 1 liter
Sugar – 1/2 cup
Cardamom Powder – 1 tsp
Method
Boil the milk on medium flame till it reduces to half
Keep stirring at intervals
After the milk reduces to half, add the sugar and mix well
Continue to stir it
Add the cardamom powder and stir well
Once the excess moisture is evaporated and it comes to a thick mass, turn off the stove
You can serve it warm or cold.
2.Green Gram Ladoo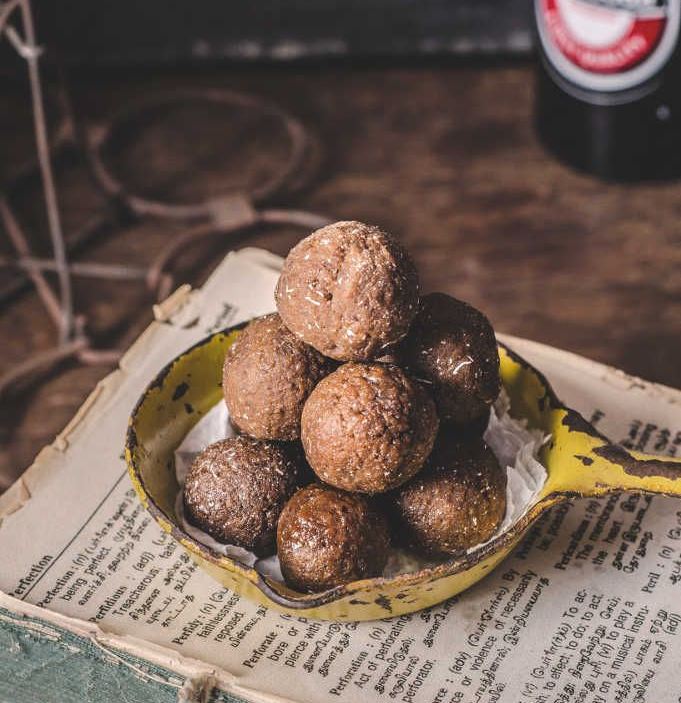 Ingredients
Green gram – 1/2 cup
Cashewnuts
Cardamom powder – 1/2 Tsp
Ghee – 3 Tsp Melted
Jaggery – 7 Tsp
Method
Roast the green gram till it turns reddish brown color.
Turn off the stove and cool it.
Grind it t to a powder. Make sure dont grind too fine.
To the grounded green gram add cashew nuts, cardamom powder, ghee and melted jaggery. 5. Mix it well, and roll it to small ladoos.
Your healthy snack Green Gram Ladoo is ready.
3. Nei Appam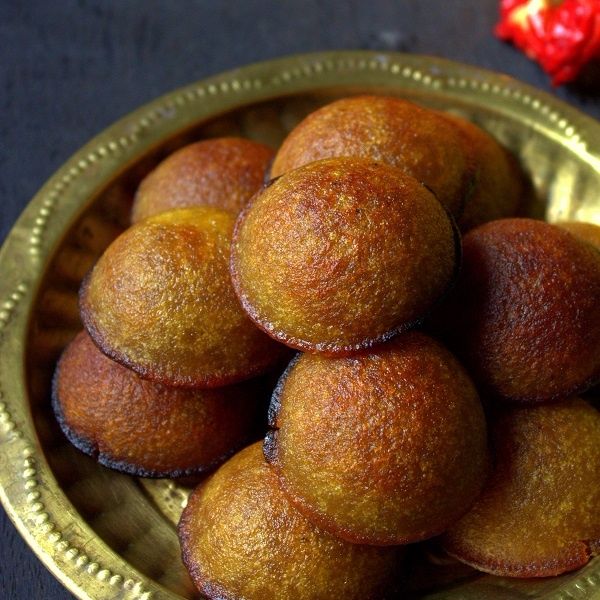 Ingredients
Banana – 2 nos
Jaggery – 100 gms
Rice Flour – 1 cup
Coconut – 1 piece(chopped)
Cooking Soda Powder – 1/4 tsp
Cardamom Powder
Ghee
Water
Method
First, make a puree of the bananas and keep it aside
Take some water in a pot, add the jaggery
Let the jaggery melt completely, strain it in a bowl
Mix the banana puree with the jaggery, add cardamom powder and rice flour
Mix everything well, add some chopped coconut flakes and mix it along
Add some water and mix it to get a dropping consistency
Add baking soda and let it sit for 30 mins
Heat the paniyaram mould, add some ghee to the moulds
Pour the nei appam batter into the moulds once the paniyaram mould is hot
Flip it once it is cooked on one side
Cook for about 5-7 minutes on each side and til you get a golden brown color on both sides
Nei appam is ready to be served.
4.Potato Halwa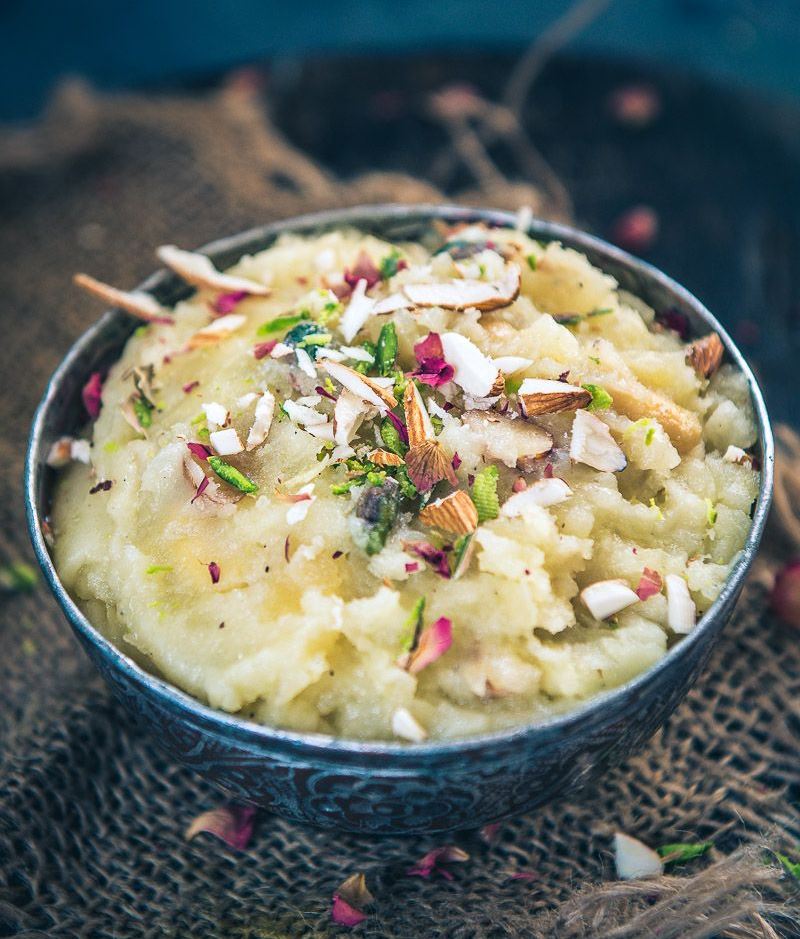 Ingredients
Boiled Sweet Potato – 1/2 Kg
Boiled Milk – 1 Cup
Sugar – 1/4 Cup
Ghee
Cashew Nuts
Badam
Raisins
A Pinch Of Saffron
Cardamom Powder – 1/2 Tsp
Method
Boil, peel and grate the sweet potato.
To a pan add ghee, cashewnuts, badam, raisins.
Once they are roasted keep them aside.
To another pan, add ghee, grated sweet potato and cook.
Now add the boiled and cooled milk.
Cook for 10 mins until all the moisture is evaporated.
Once the milk is evaporated, add sugar.
Add a pinch of saffron, cardamom powder and ghee. Mix everything together.
Finally, add the roasted nuts and mix well.
Halwa is ready.
5.Basundi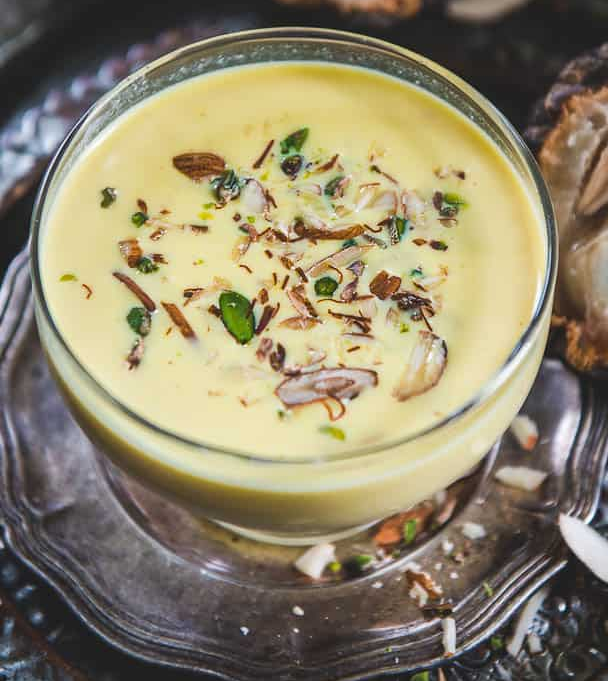 Ingredients
Full-fat Milk – 1 Litre
Saffron Milk
Cardamom Powder – 1/2 Tsp
Sugar – 1/4 Cup
Sliced Badam/almond
Sliced Pistachios
Method
Boil the full-fat milk and continue to stir until it reduces to half.
To make the saffron milk, take a little bit of the boiling milk and add saffron to it. Keep this aside.
Keep the flame on medium.
Add the saffron milk and cardamom powder.
Once the milk reduces, add sugar and let it boil.
Add sliced badam and pista and mix well.
Let it come to room temperature
Refrigerate for 2 hours and serve it chilled.
Basundi is ready.
Tell us your favourite sweet from the list !