The most sought out and popular dish in  the subcontinent- Biriyani- traces back its origin to the Mughal reign in India. Popular beliefs are that Begum Mumtaz Mahal had directed her chefs to make a sumptuous and nutritious food for her undernourished soldiers. And thus our biriyani was born- a slow cooked dish- layered with rice, meat, nuts and spices. Today the variants of this dish are numerous, cooked by one's own personnel choice of ingredients and flavors.
Some of the celebrated variants  are Hyderabadi, Sindhi, Bombay and Malabari flavor blends, with origins attributed to the locally available condiments in the region.
Hyderabadi Biriyani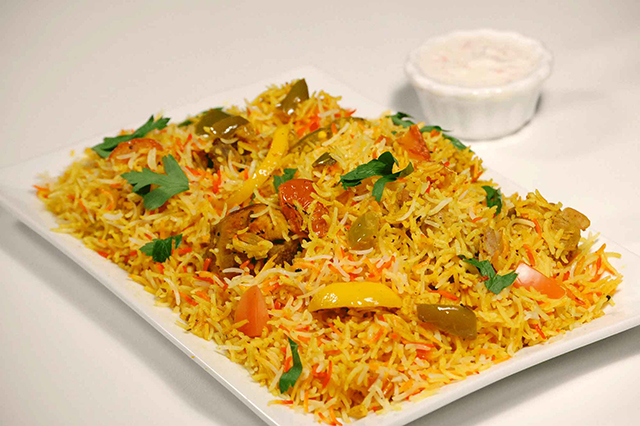 The crown dish of the Hyderabadi Muslims. Hyderabadi biryani was developed under the rule of Asaf Jah I, who had been appointed as the Governor of Deccan by the Mughal emperor Aurangzeb. It is made with basmati rice, spices and goat. Popular variations use chicken instead of goat. There are various forms of Hyderabadi biryani. One such biryani is the kachay gosht ki biryani or the dum biryani, where the mutton is marinated and cooked along with the rice. It is left on slow fire or dum for a fragrant and aromatic flavour
Sindhi Biriyani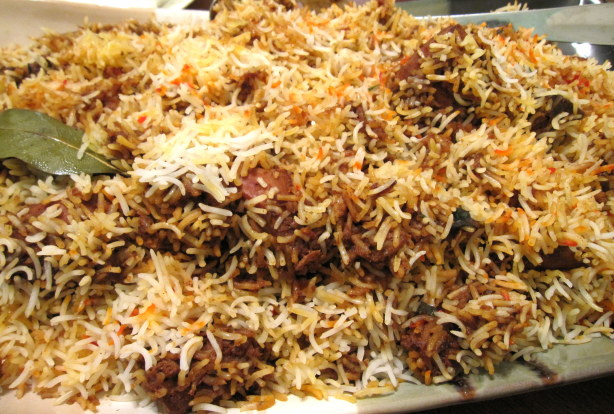 The exotic and aromatic Sindhi Biryani is known in Pakistan for its spicy taste, fragrant rice and delicate meat. Sindhi Biryani is a beloved staple in food menus in the Pakistani cuisine and Sindhi cuisine. Sindhi Biryani is prepared with meat and an amalgamation of Basmati rice, vegetables and various types of spices.
Bombay Biriyani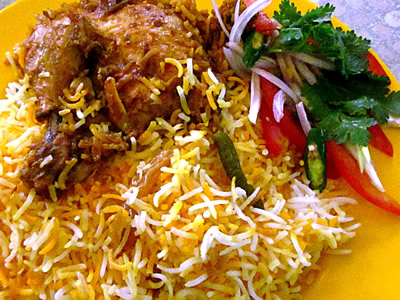 The specialty of Bombay biryani is the inclusion of potatoes and dried plums. Lamb, mutton, beef or chicken can be used. The aroma and texture definitely makes you want more of it.
Malabar Biriyani 
The variation of Biryani found in the Indian state of Kerala. It is one of the many dishes of the Malabar Muslim community, and a very popular one at that. The ingredients are chicken, spices and the specialty is the choice of rice named Khyma. Khyma rice is generally mixed with ghee. Although a huge amount of spices such as mace, cashew nuts, sultana raisins, fennel-cumin seeds, tomato, onion, ginger, garlic, shallot, cloves and cinnamon are used, there is only a small amount of chili (or chili powder) used in the preparation.
A pakki biryani, the Thalassery biryani uses a small-grained thin (not round) fragrant variety of rice known as Khyma or Jeerakasala. The dum method of preparation (sealing the lid with dough (maida) or cloth and placing red hot charcoal above the lid) is applied here.