Piping hot 'rasam' with rice is a must in every South Indian meal. An exotic traditional soup, rasam uses herbs and ingredients rich in medicinal values that are super comforting. The charm of rasam is hard to explain as it will make anyone run out of words.
The main ingredients of this irresistible thin soup include tomato, tamarind juice and rich spices like pepper, cumin etc. Rasam fall on top rated traditional functional foods as it can ward off many diseases with all the ailment ingredients. Here are some amazing benefits of rasam that makes the king soup most nutrient-dense drink.
1. Rich in Vitamin & Minerals
Rasam deserves the title of a 'balanced-diet' undoubtedly. The tangy soup is loaded with minerals such as zinc, potassium, calcium, zinc, magnesium, selenium, iron and copper. As a bonus, they are powerhouse of Vitamin A, Vitamin C, folic acid and niacin. What more do you need for an ideal nutrition?
2. Aids Digestion
The black pepper in soup helps body to discharge acids that facilitates digestion. Drinking up rasam after meals may prevent formation of acidity and flatulence and stimulates digestion. Next time you have a digestion problem, have a glass of rasam and feel the magic!
3. Ideal for pregnant women
Rich in proteins, vitamins, minerals and antioxidants, rasam is a perfect meal for pregnant women. A gulp of it will help them remain supple and healthy. Other than rasam, no dish will have these amazing benefits altogether.
4. Helps weight loss
Apart from facilitating digestion, black pepper in rasam helps removal of toxins and quickens body's metabolism. The strong flavour of pepper ensures the metabolism is proper and helps the body lose weight.
5. Rejuvenates skin
High antioxidants present in rasam helps skin against allergens thus keeping the skin young and glowing. The antioxidant property of tomato transforms dullness of skin and restores the glow.
6. Prevents constipation
The main benefit that rasam has to do with your stomach is that it prevents constipation. Tamarind base of the soup remains as a versatile ingredient to this delicate problem. Also, high dietary fiber content helps in having a clean digestive system and protects the stomach lining.
Here is a quick recipe of tomato rasam using Eastern Rasam Powder.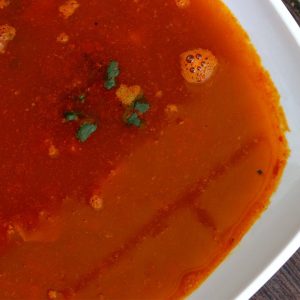 Preparation time – 5 mins

Cooking time -10 mins
Ingredients
Tomato-3 Nos
Water-1/2 liter
Salt to taste
Tamarind-one lemon size
Eastern Rasam Powder-1 ½ tbsp
Mustard, Fenugreek seeds-For seasoning
Curry leaves-1 stalk
Garlic crushed 2-3 cloves
Preparation
Add salt to water and cook the tomatoes till tender.
Add 'Eastern' Rasam powder and tamarind water, Boil well.
Season with curry leaves, mustard, fenugreek and crushed garlic.
Serve hot.