Eid al-Adha/Bakrid is the second most important holiday among Muslim which is also known as the Feast of Sacrifice. Traditionally, the starting date of this festival depends on the sighting of the new crescent moon. Celebrated with a lot of ceremonies all over the country, Bakrid is all about sharing alms to the poor and needy. Everybody is made a part of the festivities by exchanging gifts and sharing food. Let's make this year's Eid al-Adha super special with some exotic dishes straight from the Mughlai kitchen! Here's our pick for you.
Korma, Kashmir
In most of Mughlai Cuisines, Meat with curd is used in most of the dishes, be it for gravy or in marinating. Mutton Korma is easy to make mildly spiced mutton in yogurt curry. The flavor of Korma totally based on fried crushed onions with the correct proportion of spices like ground coriander, cumin, etc. Enjoy restaurant-style Korma with very minimum ingredients in the following recipe and serve to your beloveds.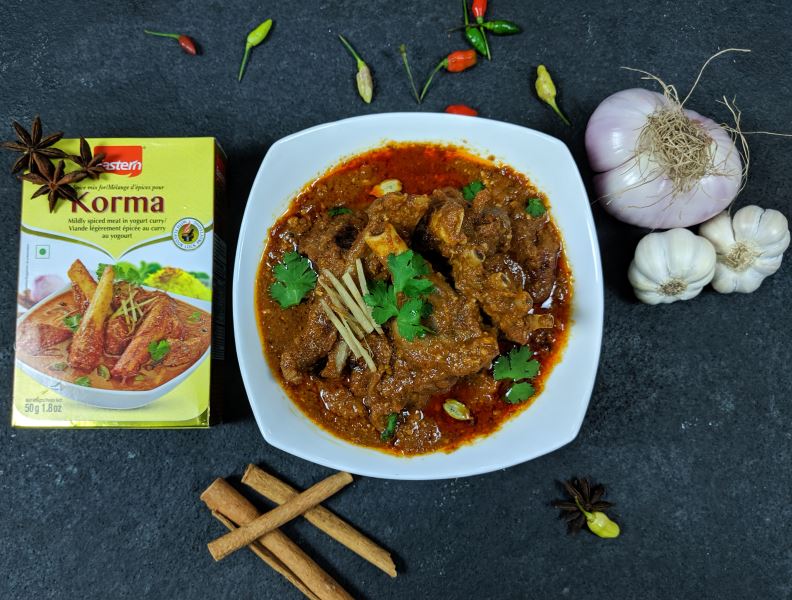 Required items
Meat with bone – 1 kg
Chopped Onion – 300g(3 Nos)
Plain Whipped yogurt – 300g
Ginger (Chopped lengthwise) – 2-3 tbsp.
Oil/Ghee – 1 cup
Eastern Korma masala – Entire pack (50g)
Water – As required
Cooking instructions:
 Heat 1/2 cup of oil/ghee in a pan and add the chopped onions to it. Fry the onion until it becomes light golden in color. Remove the onion from pan, crush it coarsely and keep it aside.
In the same pan, add the remaining ½ cup of oil/ghee along with cleaned meat, whipped yoghurt, chopped ginger and Eastern Korma Masala. Close the pan with a lid and cook for 2-3 minutes.
 Pour required amount of water and again close the pan with a lid. Keep cooking the meat till it becomes tender.
Then add the previously fried and crushed onions to the meat and cook for another 5-10 minutes to obtain desired consistency.
Korma is ready to serve with hot roti/flat bread/rice.
Chicken Tikka, Glasgow
Chicken Tikka is one of the dishes most of the people especially Indians would prefer for its spicy and crispy taste. Here's the recipe of the tastier and the juicy Chicken Tikka to start the food feast.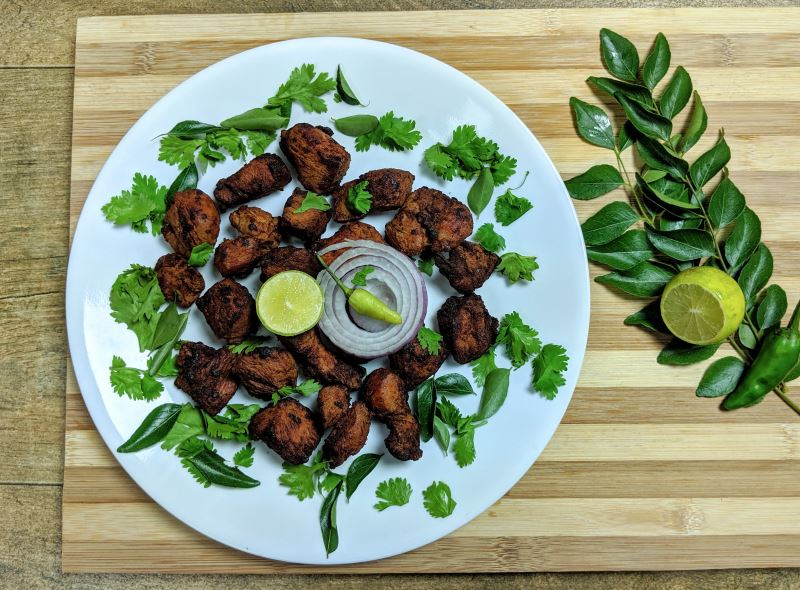 Required items:
Chicken – 1.250 kg
Lemon juice – 8 tbsp.
Cooking oil – 5 tbsp.
Eastern Chicken Masala – Entire pack(50g)
Preparation instructions:
Mix together Eastern Chicken tikka mix, lemon juice and 2 tbsp oil. Apply on chicken pieces and marinate for 3 hours.
Place chicken pieces in a frying pan and grill on high heat on each side until done. Apply butter, cover and cook on low heat for 10 minutes.
Charcoal/Gas grill
Follow the above 1st step of chicken Tikka recipe
Put each portion of chicken on a skewer and place it on low heat of charcoal/gas grill.
Grill evenly on each side until meat is tender and done. Apply butter before removing from heat.
Achar Gosht, Uttar Pradesh
Why don't you recreate authentic Awadhi Cusine -Achar Gosht for this Eid and make it extra special? Cooking Gosht is a perfect blend of rich and tangy spices brings out pickle flavors to the curry making it ravishing dish. Achar Gosht is a must-try recipe that has great flavors from coriander, fennel, cumin, etc.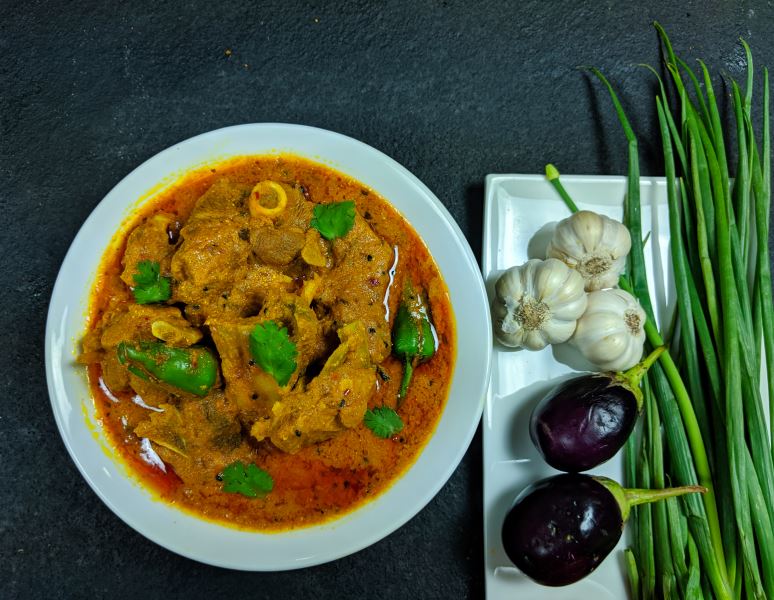 Required items:
Meat – 800 g
Ginger garlic paste – 3 tbsp.
Green chilli – 8 medium sized(deseeded and Slit length wise)
Lemon juice – 3 tbsp
Tomato puree – 450g (5 medium sized)
Plain yogurt – 450g
Cooking oil – 1/2 cup(or as required)
Eastern Achar gosht – Entire pack(50g)
Water – 2-3 cup(As required)
Preparation instructions:
Blend 2 tbsp of Eastern Achar Gosht with the lemon juice to form a paste. Stuff the slit green chilies with the paste and keep aside.
Marinate the meat with ginger garlic paste, yogurt, and Eastern Achar Gosht for at least 20 minutes.
Heat the oil in a pan then add the marinated meat to it. Stir fry for 10 minutes at medium flame until all the water evaporates.
Pour the required amount of water (2-3 cups) and cover the pan. Allow the meat to cook on a low flame till it becomes tender.
Add tomato puree to the meat and stir fry at high flame until the puree gets cooked.
Place the stuffed green chilies over the meat.
Cover the pan with the lid and continue cooking at low flame until oil separates from the gravy.
Achar Gosht is ready to eat. Serve it with hot naan, raita, and salads.
Tips:

The dish tastes better when the meat is marinated with ginger garlic paste, yoghurt and Eastern Achar Gosht masala for at least 2 hours before cooking.
Adding some ghee with oil when you cook will enrich the flavor of the dish.
Prepare the puree with ripened tomatoes for better color.
Pulav Biriyani, Delhi
Pulav Biriyani is a rice dish with chicken cooked in yogurt and warm spices such as turmeric, red chili powder, and rich masala. Traditionally slow-cooked by layering the cooked chicken over the rice and is topped with fried onions, aromatic saffron, and fresh mint.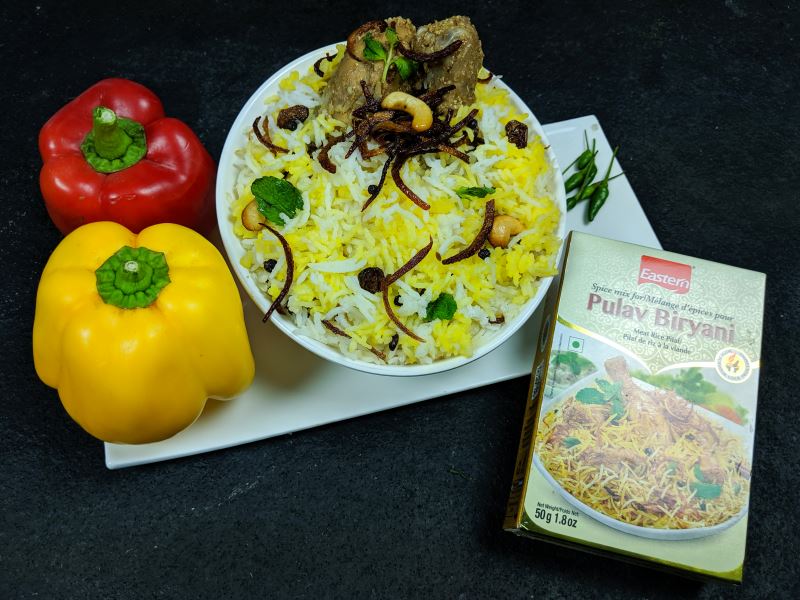 Required items:
Chicken – 800 g
Basmati Rice – 650g
Ginger garlic paste – 3 tbsp.
Onion Chopped – 1 medium
Plain yogurt – 150 g
Cooking oil – 3/4th cup
Food color(Yellow) – As required(Optional)
Eastern Pulav Biryani – Entire pack(50g)
Water(for cooking meat)- 1 cup(Chicken) or 2 cup(Beef/Goat/Lamb)
Water(for cooking rice) – 3 liter
Salt(for cooking rice) – 1 ½ tbsp
Cooking Instructions:
Take 3 liters of water in a pan and bring it to boil. Add in the Basmati rice and salt and cook till the rice is ¾ th done. Then drain the water and keep it aside.
In another pan, add the meat along with ginger garlic paste, Eastern Pulav Biriyani mix and water. Cover the pan and cook the contents in low flame until meat becomes tender.
 Add the yoghurt to the cooked meat and mix thoroughly.
Spread half of the pre-cooked rice on a pan and layer it with the cooked meat gravy. Place the remaining rice over the gravy and sprinkle yellow colour if required.
Heat oil in a frying pan and fry the onion till it becomes golden brown. Pour it evenly of the layered rice and cook on low flame till the rice get cooked completely (5-10 minutes approximately).
Mix rice and gravy uniformly and serve hot with raita.
Bakrid wishes to all readers!